How To Start An Inflatable Water Park Business?
2021-02-25
How To Start An Inflatable Water Park Business: A 14-step guide
Floating inflatable water park activity loved by all people all over the world, especially in Australia, United Kingdom, France, Latvia and other European countries. During the summer time in Melbourne or Perth, you may cannot see many people on the street, but you can see many people take part in the inflatable water park activities. Some parks even receive more than 1200 visitors per day during the summer holiday.

Although it's a very profitable business, there are few difficult aspects, but by having a proper business strategy and a good plan, you will be successful.
How to start an inflatable water park business? Here are 14 steps guide for your reference. The sequence of the processes maybe a little different in different countries or areas, but generally similar.
1. Find a proper location.

Finding or building a good location is one of the key point for success of inflatable water park business. For many water park owners, they found several locations before making the decision. What kind of location is a good one? First, the water area must be clean enough and part of the area has a minimum 2.5m deep, if the water depth is less than 2.5m, you cannot use the big products more than 3.2m high. Most attractive inflatable water park items are bigger ones. If you dig the lake for your park, it's recommended to dig some area 4m deep in case you will buy some giant items in the future. Second, the land lease contract validity need to be at least 4 years. If the contract validity is too short, you may need to find another location before you make money. Third, enough number of potential visitors.

2. Conduct research
If the location issue for a inflatable water park business can be resolved, the next step is to conduct research. Ask yourself these questions can make you very clear:
1) Who are my potential customers? What age groups are my potential customers in?
2) How many potential customers may come to my water park every day?
3) How much are potential customers willing to pay for the ticket?
4) How do other inflatable water park operation companies do? It's recommended to visit 2-3 locations in your country to see how they operate the park.
5) What and how much cost do I need to pay for the water park business? Including the cost of water area, labors, inflatable water park equipment, supporting facilities, advertising, company register.
6) What's my budget for this inflatable water park business?
7) In addition to inflatable water park equipment, what supporting facilities or service do I need to provide?
8) What is the possible shortest and longest payback time?
9) How much profit may I get after the payback time?
10) Is their other inflatable water park business near me? If yes, how far is it? What are my competitors' strengths and weaknesses?
11) Regarding the inflatable water park business, what my strengths and weaknesses are?
12) What kind of inflatable water park equipment will my potential customers like? You need to consider all age groups and make a balance. What capacity of the park is the suitable one for me?
13) What advertising platforms or promotion activity shall I use to attract more customers?
14) Can I get public insurance?
15) What risks will I have? Can I avoid these risks? If yes, how to avoid?
16) What is the probability of success? If I am failed, can I afford the loss?
Doing above research helps you reduce risks and blindness. Because you can better understand your conditions.
3. Write a business plan
Write a detailed inflatable water park business plan according to above research. If you want to get a business loan, the more specific the analysis is, the more confidence shows to the lenders.
4. Secure funding
In the business plan stage, you calculated the cost that you need already. If you plan to get a loan from the bank, you need to consider the time that you can get the money.
5. Prepare final layout of your inflatable water park
In conducting research process, you should inquire about the price of the water park equipment already. Now you need to double check if the park you inquired for is the final one that you want. Check about the capacity, safety, fun factors and reasonability of the combination. Ask your supplier to send you the final layout with different views and dimensions for you to submit your plan for permission and buy insurance.

6. Apply for permission and obtain insurance
Apply for permit from local council for your inflatable water park business. It's better to include the key words water park, water sports, aqua park when you name your company so that people can remember you easier. You also need to inquire about the cost and conditions to buy public insurance.
7. Open a business bank account
Open an international business bank account inclusive of your local currency and US dollars. Because you may need to pay US dollars when you buy the inflatable water park equipment abroad.
8. Order inflatable water park items
When above processes are all settled and the time is proper, the next step is to place order to your inflatable water park supplier. Regarding how to choose proper inflatable water park supplier, please refer to these two articles:
https://www.bouncia.com.cn/how-to-choose-the-right-floating-water-park-supplier,
https://www.bouncia.com.cn/which-type-of-inflatable-floating-water-park-supplier-to-deal-with
9. Recruit employees
When you get the permission of opening inflatable water park, it's the proper time for you to recruit employees such as marketers, life guards, ticket sellers, customer service staff and managers.
10. Train staff
Before the inflatable water park is opened, you need to train your staff according to their job description and responsibilities so that they will be competent for the work.
11. Make advertisements
Making advertisement on facebook, Instagram, tiktok and any other platforms where your potential customers are. Using the attractive pictures and videos to make your potential customer look forward to visiting your park.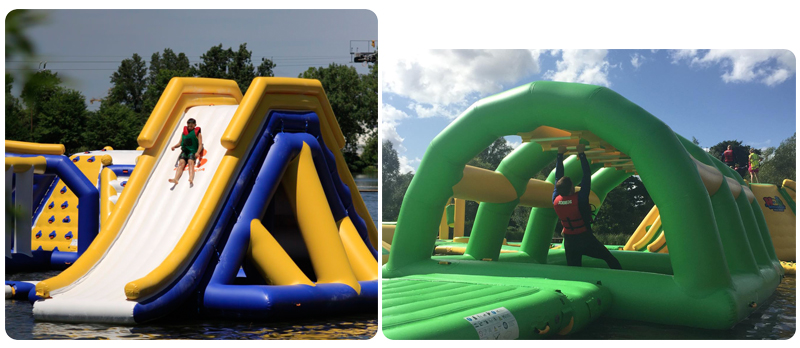 12. Prepare anchors for your inflatable water park
You can use concrete blocks or metal anchors to anchor the park. Concrete blocks systems are more complex but more stable. Another advantage of concrete blocks anchoring is the vertical fixing can avoid entanglement of ropes. So Bouncia always recommend Concrete blocks for the inflatable water park that do not need to be moved to other locations in a short time.

13. Install the park
If the concrete blocks are set at the bottom of the water area in advance, for most inflatable water park, it takes less than a week for installation. However, as the work will be influenced by weather, it's suggested to reserve 2 weeks for installation. You need to keep on eye on weather forecast and choose days without wind and rain. Check this article for more detailed information about inflatable water park installation: https://www.bouncia.com.cn/how-to-set-up-an-inflatable-water-park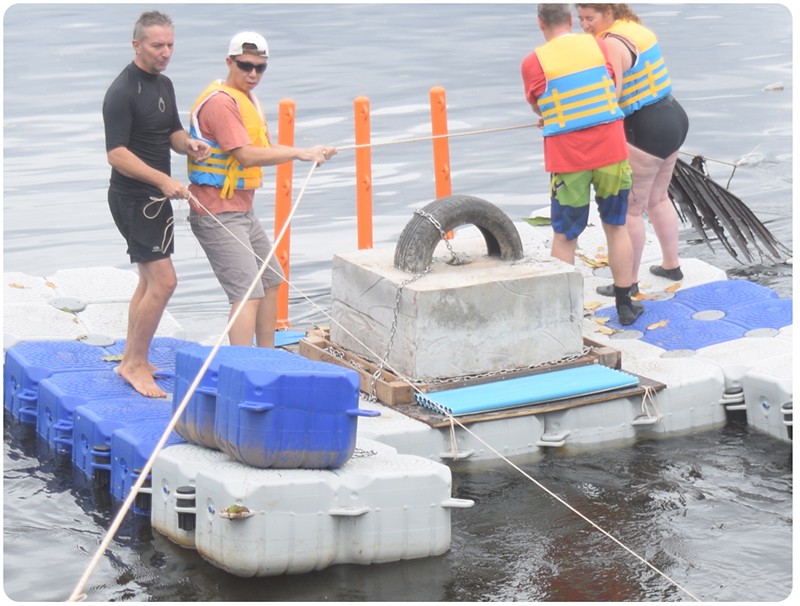 14. Put into trial operation
In order to avoid possible issues during formal opening days of inflatable water park business, it is recommended to do several days trial operation inclusive of weekends. During trial operation, you can test out the proper number of visitors for each session, the good flow chart of each reception process and the good way to do promotion for your water park business. Customers feedback during the trial operation can be very valuable for you to make improvement. Do not forget to gathering your guests' feedback.
Above are 14-step guide for how to start an inflatable water park business, hope it can be any help for those who is planning to start the inflatable water park business. If you have further queries, welcome to message down to communicate with the author of this article.