5 Tips For Dealing With Chinese Inflatable Water Park Suppliers
2021-03-12
In order to get factory direct price, more and more inflatable water park owners choose Chinese suppliers instead of the European or American suppliers. However, there are some pits that you may step on if you do not do enough research.
What kind of pits are there when dealing with Chinese inflatable water park suppliers and how to avoid them?
The following 5 tips will tell you the answers.
1. Late delivery of the floating water park.
Your order maybe delayed because of below circumstances:
A: The supplier is not honest when confirming the delivery time with you.
Solution 1: Require late fees terms on the invoice or contract before making deposit for your inflatable water park
Solution 2: Ask the supplier to show you their historical on time delivery rate. If they are the members of some B2B platform, the platforms may record this information. Look at the number of transactions and stars. 5 star means high on time delivery rate for previous deliveries.


B: The late delivery is because of the unexpected occurrence during the production process. Such as government environmental inspection, unexpected power cut etc.
Solution: Add 10 to 15 days buffer time when placing orders. Also keep an eye on the production schedule and follow up frequently. Especially from January and May. Because this period is the busiest season for most inflatable water park manufacturers.
2. Mistakes in producing of inflatable water park.
You may find there are some mistakes when your inflatable water park items are finished. There are 2 main reasons:
A: The whole team is not professional enough.
Solution: experience your supplier's professionalism during the inflatable water park project communication. You can also check the feedback of the suppliers other customers or even check with their customers directly.
B: Misunderstanding during communication.
Solution: You need to check the final drawing of your water park and the final invoice or contract very carefully before making the confirmation. If you have special requirement, make sure that the sales representative understand each point clearly and confirm one by one. Because sometimes mistakes start at this process already. If some point is really important for you, you can also follow up and repeat your requirement to your sales representative.
3. Unclear or general after-sale service terms.
You may find some inflatable water park suppliers offer 2-year guarantee; some even offer 5 years. The longer guarantee period, the better quality? No, sometimes it's just a number game.
Solution: ask the supplier to send you clear and detailed warranty policy such as which situation to be replaced and which situation to be repaired. If an inflatable water park manufacturer or supplier cannot provide a rigorous guarantee, there may be many after sale disputes because of unclear responsibilities and obligations. Even if the suppliers' products quality is at the top level, they cannot promise their products are 100% qualified, it's necessary to make guarantee terms clear before ordering.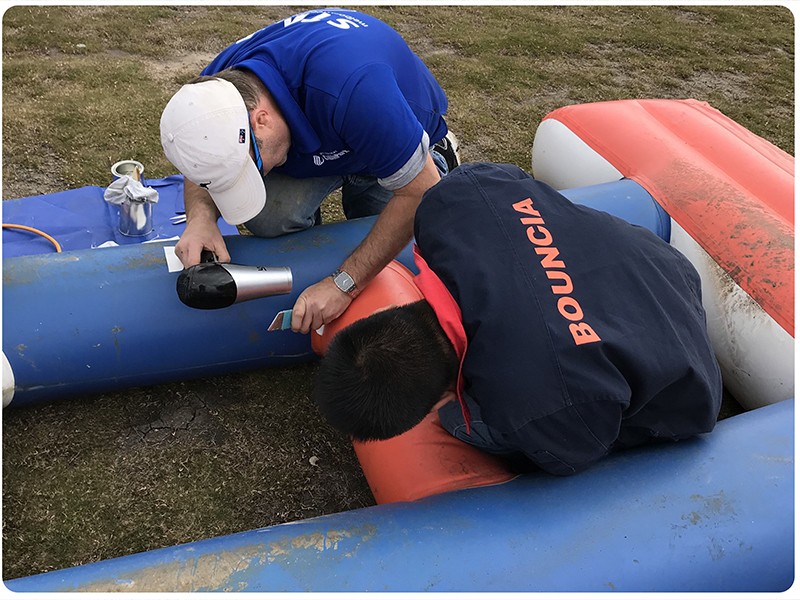 4. Invalid certificates or test reports for water park items
You may see SGS, CE, or TUV marks on the advertising material from all inflatable water park suppliers, but most certificates or test reports are useless. Only a very small part suppliers have valid certificate for single water park elements. Most of the suppliers do NOT actually have the valid certificate or test reports. Because some of them may only have the certificate or test report for raw material, some of them are only factory audited by SGS or TUV, some of them use the wrong standard. These invalid certificates or reports may put you in trouble when declaring customs clearance, buying insurance and passing inspection from your local authority. Especially for European floating water park owners.
Solution: Ask the supplier to provide detailed certificates or test reports for EACH inflatable water park elements. The correct update standard for inflatable water park is EN ISO25649(not EN 15649 or EN14960)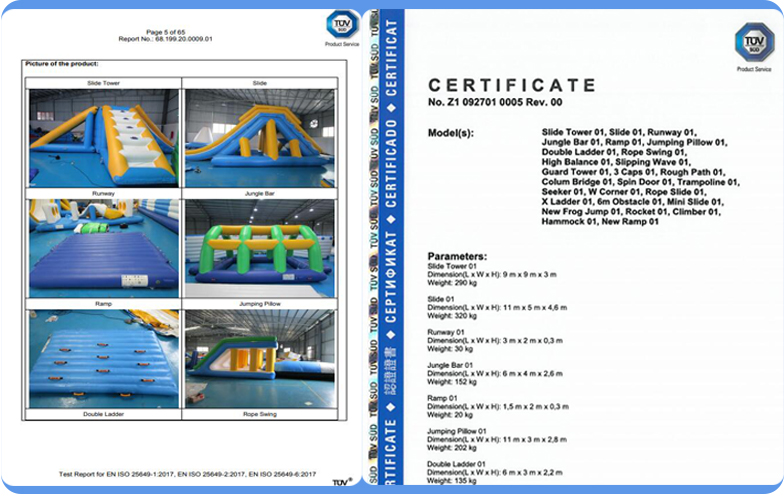 5. Dishonesty
In order to get orders, some inflatable floating water park suppliers maybe dishonest. For example, show A material in quotation sheet but use B material instead for production, copy their competitors'certificate and change the holder's name,pretend to be the manufacturer of some good inflatable water park projects, trading companies pretend to be the manufacturers and so on.
Solutions: Ask the suppliers to send you valid evidences, visit and check their production line products personally, visit their water park project, check their customer's feedback or contact their client directly.
Generally speaking, if you can avoid above 5 pits when dealing with Chinese inflatable water park suppliers, your purchasing experience will be not bad.
Welcome to email us to discuss more about inflatable water park business.
Submit successfully
We will review as soon as possible