How To Choose The Right Floating Water Park Supplier?
2020-12-24
How to choose the right supplier for your inflatable waterpark business?
Before starting your inflatable floating water park business, choosing the right supplier for the water park equipment is one of the most important tasks. However, it's not easy to choose the right one since there are many aspects need to be considered. Today I would like to share some tips to choose the right supplier.
1. Do the suppliers reply quickly and professionally?
At the beginning of floating aquapark negotiation, quick response is a key factor to consider. If the supplier always response slowly or even need you to follow up, after the order is placed, your request or delivery time maybe also delayed. In addition to quick reply, if the sales person or his/her team can solve all your queries quickly and patiently is also very important.
2. Third party certification or test report against EN ISO 25649.
● Third party certification from recognized institute is also an important factor to consider when choosing the floating water games supplier. It mainly has 2 roles.
● First, every supplier says their products are of good quality and in accordance with EN ISO 25649 standard. Especially many inflatable water park suppliers use competitors' photos as advertising material. So, it's really difficult to judge which one is better just from the photo or what they say.
● With third party certification and test report does not mean good quality. But at least it means the design and workmanship meet the standard requirement. Because if the products cannot meet the requirement of the standard, they will not be certified by the RECOGNIZED institute. Maybe you're surprised to hear that there are products do not meet the requirement of the standard. But this is the truth and such situation is common.
● The second role of the third party certification is for the inflatable waterpark owner to handle customs clearance, buy public insurance, and pass the safety audit by local authority.
● When checking the hard copy certification, it's important to check if the certification holder of the inflatable water park items is the same as the one shown on the website of the 3rd testing institute. This is the way to debar the fake certifications.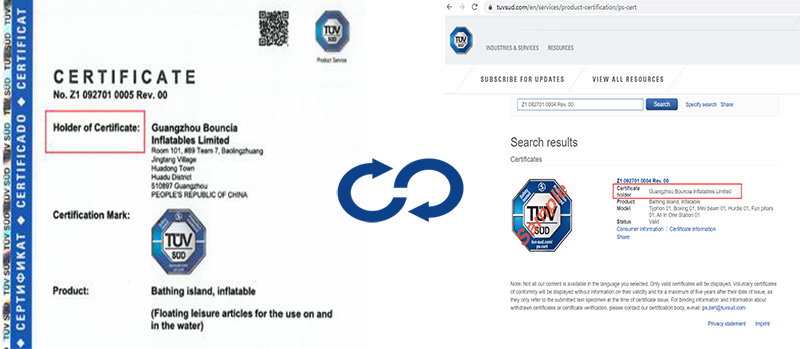 3. Does the supplier have enough TRUE successful cases of inflatable waterpark?
● Enough cases usually means the floating waterpark supplier has enough experience on water park designing, producing and exporting process. Also, to some extent, large sales means quality is not bad. However, when we search the inflatable waterpark supplier on internet, it's very common to see the same water park photos on different websites. Even several suppliers say that are the cases they made. If you meet this situation, ask the supplier to provide the shipment evidence ( bill of lading or airway bill). If possible, visit their cases and check the quality personally is a good way.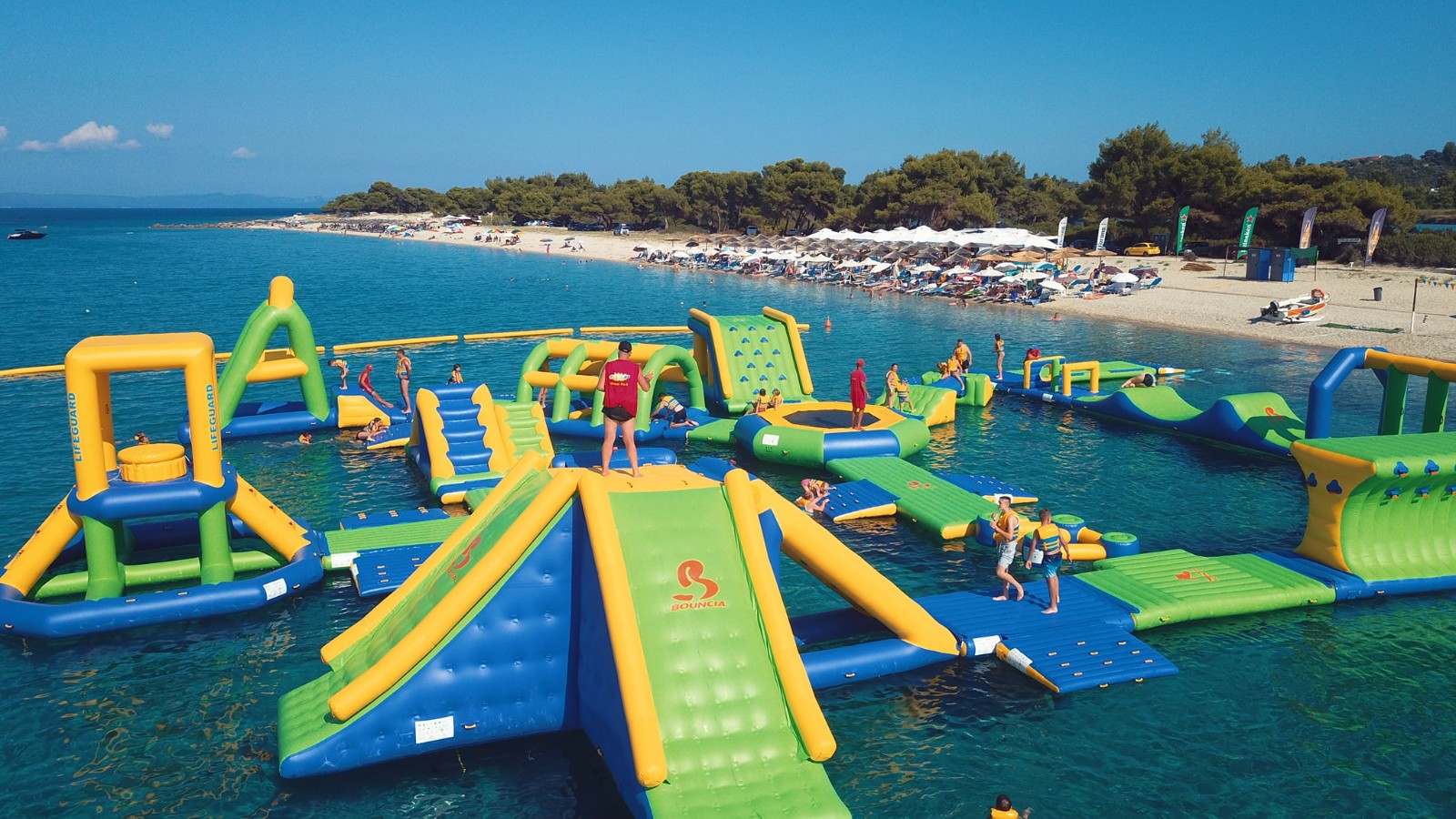 4. What key strengths does the inflatable waterpark supplier have?
● Comparing the key strengths of different inflatable waterpark suppliers is an important work. Because after you know their strengths, you know which strengths can benefit you most. This is the reason for you to choose the final aquapark supplier.

● Besides listen to what that say, remember to ask the suppliers to offer valid evidence of their strengths. Such as photos, test reports, or videos.
5. How to check the supplier's quality?
● Actually, this is not easy before experiencing the products personally. If possible, it's necessary to buy a single waterpark item to test the quality in the first season before ordering the whole waterpark for next season. When ordering the sample, choose the item that has grab handles, carry handles, and anchor rings. As this kind of waterpark items can stand for levels of different workmanship.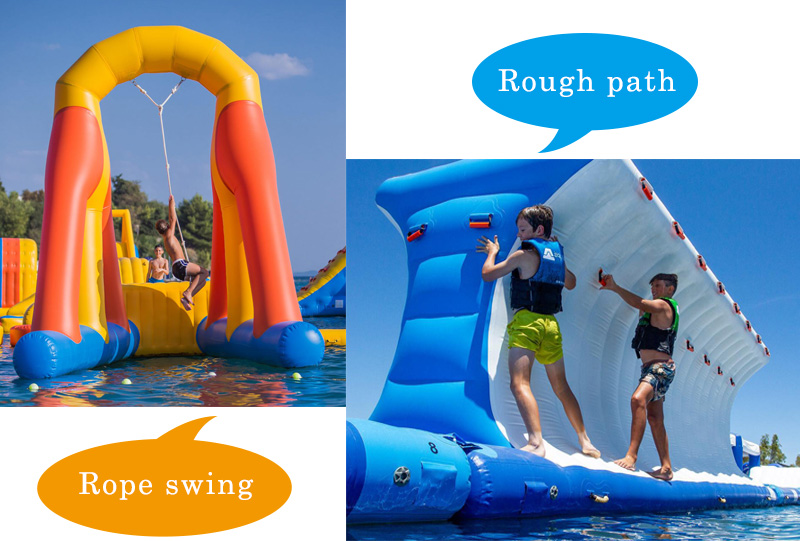 ● If you do not have enough time to test the sample, another way is to visit their other waterpark projects and check the quality personally. For only checking the quality level of the inflatable aquapark, this way is even better than to visit the suppliers company. As you can see the quality after using.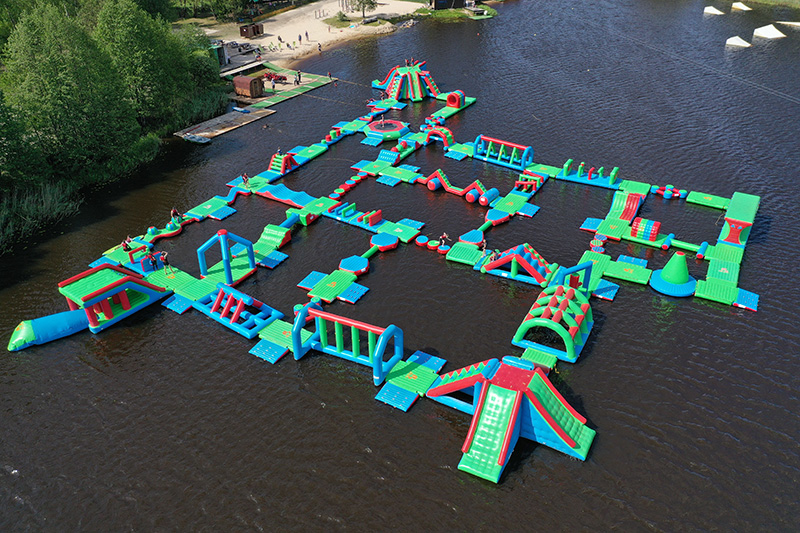 ● If it's in winter and you can not check the aquapark quality on water, you can visit the supplier's facility and check. Another way is to check with the supplier's other customers to see what they say.
● In addition to above approaches to check the inflatable aquapark supplier's quality, you can also ask the supplier to send you some documents that can prove their quality level, such as material test report, workmanship test report ect.
6. Are their designs good?
For inflatable waterpark, good design means original design, reasonable layout, safe, fun, and high cost effectiveness.
A. Why original design is so important?
● Because for an inflatable waterpark, no matter how attractive the designs are, if they are patent protected, you may have the patent infringement issues.
● Imaging someone looks for you everyday because of the patent infringement during your park opening. It definitely affects your mood and business. What's more, a lawsuit maybe happened and more money maybe lost. To avoid such problems happen, never buy inflatable waterpark from those suppliers who do not have their own design.
B. What's a reasonable layout?
● First, the whole aquapark must have enough climbing steps for guests to get on the park. In order to make potential customers feel that their water parks cheap. many inflatable water park suppliers design very few steps to save cost.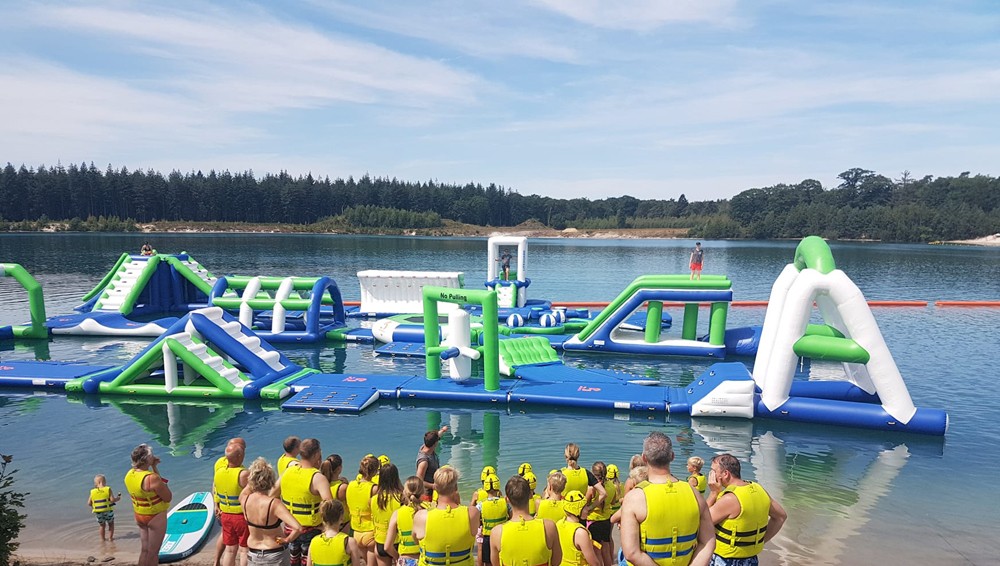 ● Second, can the aquapark entrance part afford enough traffic flow?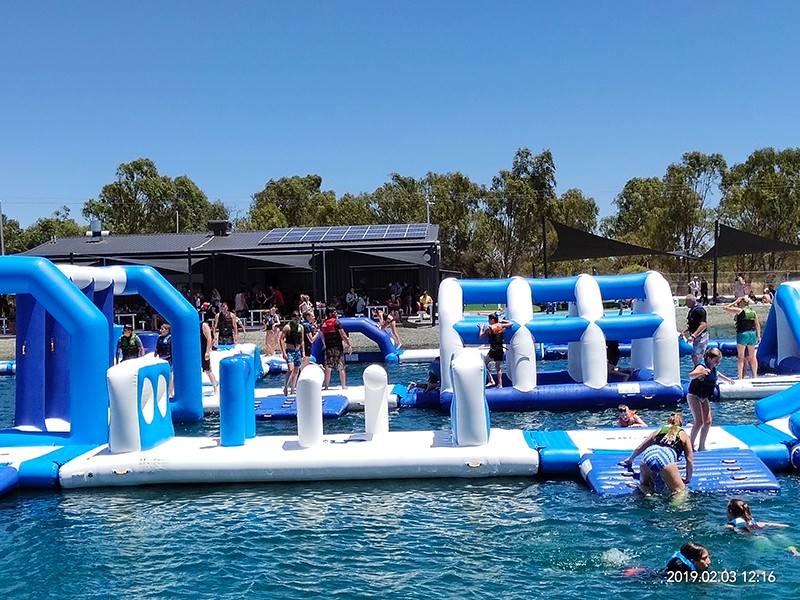 ● Third, does the whole water park have star products to attract guests? Can the area around the start products afford enough traffic flow?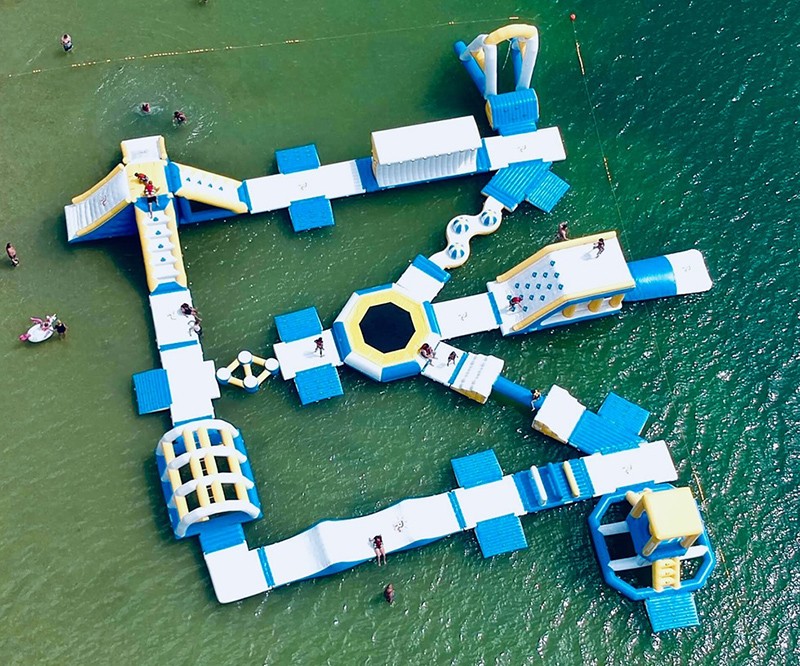 ● Forth, are the quantity of the runways and single water games obstacles reasonable?
C.Safety
● Safety is one of the most important factors when judging if the design is good. For aqua park owner, low injury rate is very important for business reputation and insurance cost. However, to judge if the inflatable waterpark items safe or not actually need water park operation experience.
● If you're a green hand for operating water park. The basic way is to choose the items with recognized third party certified items against EN ISO 25649 standard. As in this standard, it has basic safety requirements for testing. So items that are certified basically are safe.
● Another way to know if the water park items are safe or not is to ask the supplier to analyze the safety factors of their items. For example, in norm EN ISO 25649, there is a requirement about design features likely to cause foot or body entrapment. If the width of gaps or slots are between 5-34.2cm, a protection panel need to be added to avoid entrapment.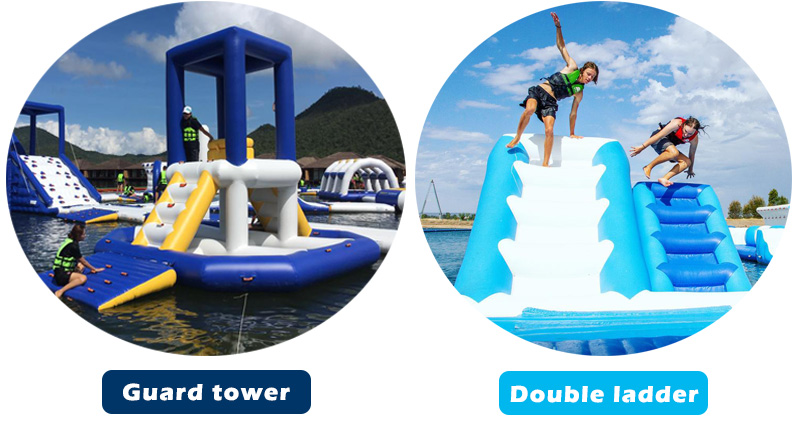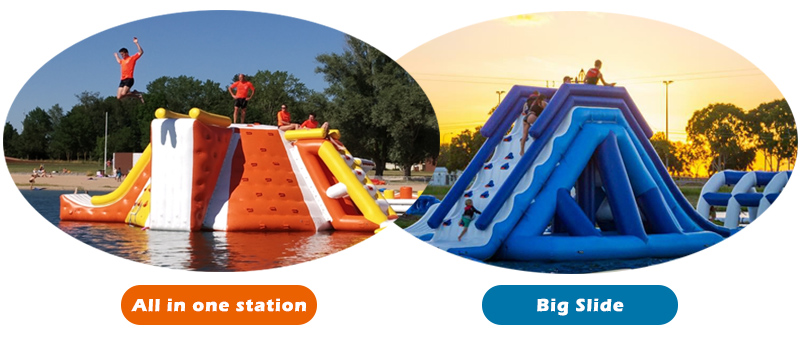 E. High cost-effectiveness
● In addition to above factors, high cost-effectiveness is also what you need to consider when buying the inflatable water park equipment. Because we buy the inflatable water park for commercial use. If the waterpark itself is of high cost-effectiveness, that means you earn money already at the process of buy the water park equipment.
7. Can the suppliers provide all necessary parts for inflatable water park installation and operation?
● To buy all necessary parts from one supplier can save much time and energy for you when purchasing. However, in order to make their quotes look cheaper, some inflatable aquapark suppliers may just quote for waterpark without necessary parts.
● A Greece floating waterpark owner once ordered an aquapark from a Chinese trading company. When they began to install the park, they found they do not have parts like bungee ropes, carabiners and this makes them have to postpone the park opening time.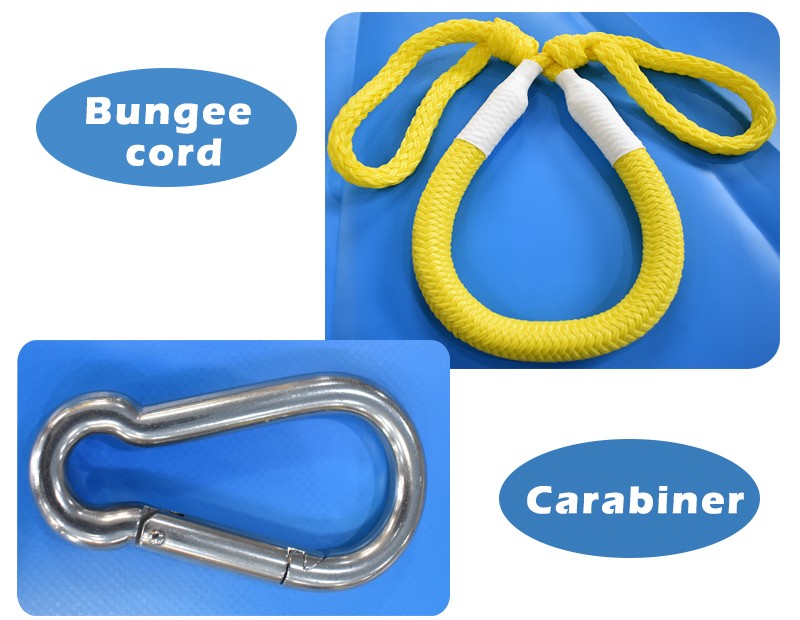 ● To make sure you have everything for installation and operation, when you receive the quote, check if following parts are listed on the inflatable water park quotation sheet: ticket booth(optional), buoyancy vests, ropes, chains, carabiners, floating markers, bungee cords, wrist bands, ground sheet, anti-skid socks(optional), connection straps, air pumps, pumps for supplement air on water, repair kit(glue, material and file)

8. Inflatable water park prices
● When comparing prices of the inflatable water park, you need to consider the design, actual capacity of the whole park, the material, quality level, quantity of single items, fun factors etc.
9. What's the supplier's after-sale service?
● No matter how good you feel during the inflatable water games order details negotiation, it's essential to check their detailed after sales service policy with the suppliers before making the deposit.

● Some inflatable water park games suppliers may only tell you their guarantee is ** years. In order to avoid dispute when problems happen, asking them for the detailed policy regarding responsibilities before ordering is highly recommended.
10. Have the suppliers ever shipped to your country or area?
● This is not a key point but can be a bonus point. The suppliers can be familiar with what importing documents you need as well as the ship schedule.
11. Can the supplier provide reference customers?
● If above processes are all checked but you still worry about the honesty and quality of the floating water games suppliers, you can require them to provide reference customers near you for you for checking.
12. How to pay safely?
● Now you're about to send down payment for your floating water games. Safe pay is what you need to consider. In order to avoid payment fraud, check the bank account with the supplier via phone calls published on their website.
Above are the 12 tips to choose the proper inflatable water park supplier. Generally speaking, if the potential suppliers can meet below requirements, they are basically ok: 1. Third party certification or test report for single items 2. Enough successful projects 3. Enough reference customers
If you have further questions about choosing right floating water park supplier, welcome to email the author: export@bouncia.com.cn or fill in the form below.