Safety Tips For Inflatable Aquapark Operation
2021-01-16
19 Tips For Operate The Inflatable Aquapark Safely
Operating the inflatable aquapark safely is the essential factor that all the park owners need to consider. A safe aquapark can bring you more guests and lower the insurance cost as well.
A safe inflatable aquapark consists of the safe products and safe operation. Regarding safe products, you can find the answers in this article: https://www.bouncia.com.cn/how-to-choose-the-right-floating-water-park-supplier
Regarding safe operation, the following safety tips are for your reference.
1) Visible safety tips need to be put up on the inflatable water park spot. The contents include but not limited to warnings on the single inflatable water park items.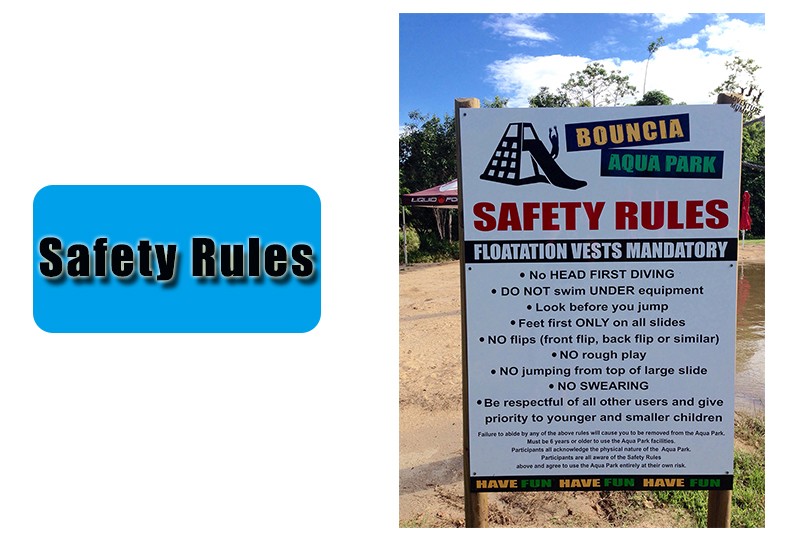 2) All water park guests must read and sign a waiver on entry.
3) The aquapark staff need to read safety briefing to all the tourists before the session starts.
4) Every tourist must sign"waiver" before entering the inflatable water park.
5) Every 360 square meters water area need at least one life guard. If there are giant and high water games, each giant item need one extra life guard.
6) Control the capacity not more than the one specified on the manual. For safer and better experience, it would be better to control the actual participants at about 70% of the maximum capacity specified by the inflatable aqua park manufacturer.
7 ) All inflatable water park participants must have a basic swimming capability.
8 ) Follow the minimum age requirement specified on the inflatable water park manual.
9 ) Children aged 3 to 12 years old must be accompanied on the inflatables by a an adult (over 18), One adult only can supervise 2 kids at the same time.
10 ) Parents must supervise their children at all times during the water activity.
11 ) Buoyancy vest is a must to enter the inflatable aqua park.
12 ) Pregnant women and the persons who is sick are not allowed to enter the inflatable water park.
13 ) No entry after drinking.
14 ) No diving on the inflatable water park.
15 ) No jumping on the inflatable products that are not for jumping.
16 ) No swimming under the products.
17 ) Always sliding forward on a slide.
18 ) No turning over on the inflatable water park equipment.
19 ) Keep space with other guests, no standing in front of the inflatable water slide.
Above are the tips for operating the inflatable aqua park safely, if you have further queries, welcome to email us at export@bouncia.com.cn or fill the form below.
Submit successfully
We will review as soon as possible