Inflatable Water Park Insurance
2021-12-02
About inflatable water park liability insurance
Control the claims or injury rate of your inflatable water park
When summer comes, many people are willing to get out and have fun on water. Inflatable water park is becoming more and more popular in Europe, Australia, New Zealand and other places in the world. So some business man or water sports lovers are considering to start the inflatable water park operation business.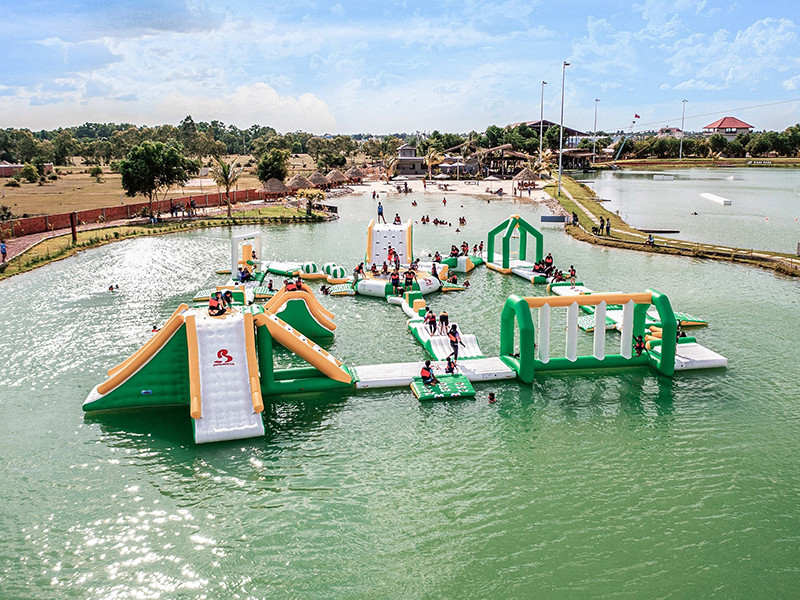 Besides to attract more guests to your inflatable water park, to control the claims or injury rate to a very low level is another important thing that the floating water park owner need to do. Because if your inflatable water park has large claims or big number of injuries during the season, it can be very difficult for you to find the insurance company to cover you. You may can not run the business because of this.
Some insurance companies will deny coverage to floating water parks for a plethora of reasons: you have too many claims, no coverage offered in your area, you have too many obstacles that aren't considered safe, or your floating water obstacles are not certified. If you have come across any of these issues, it can be very frustrating.
How to reduce the possibility that the problems of no insurance companies cover you?
There are two main directions for the inflatable water park owners to work. One is the water park operation process and team management. The other direction is the safety of the inflatable water park equipment. Regarding the water park operation process and team management, you need to make a mind map and sort out every process from guest's entry until leave your park to get rid of all possible risks on operation and management. You can refer to this article for some idea about how to operate floating water park safely https://www.bouncia.com.cn/safety-tips-for-inflatable-aquapark-operation.
For the safety of the inflatable water park equipment. There are several ways to make sure the equipment that you're going to order are safe. The following are some ideas for your reference:
A. Choose the items with recognized third-party certification against EN ISO 25649 standard. As in this standard, it has basic safety requirements for testing. In theory, items that are certified are safe based on the standard.
B. Join water park owner team and get some experience about safety from other experienced park owners.
C. Ask the supplier to tell you why their items are safe. From the details that your water park supplier tell you. You can judge by yourself.
D. Choose the supplier that have enough successful projects. If the suppliers have enough floating water park cases, their equipment probably safe.
If you're interested in learning more about equipment safety, please read this article https://www.bouncia.com.cn/how-to-choose-the-right-floating-water-park-supplier
Above are some views about the inflatable water park insurance, welcome to email us to export@boucia.com.cn or message down.