Giant inflatable water park for sale
2021-01-23
How to attract more visitors to come to your park? More and more water park owners are trying to buy giant inflatable water park items for their park to increase the number of the guests.
Bouncia is good at designing and manufacturing giant inflatable water park items. And we designed and sold many giant items to our clients already. The most popular items that Bouncia manufactured and sold is the giant all in one station and the giant jumping tower. You can experience these big items in Perth aquapark in Australia, Let's go hydro in North Ireland, and Coolum water park in Australia.
The following giant all in one station was manufactured by Bouncia in the year 2020.It is a very exciting item consists of 3 different slides, 2 jumping platforms with different heights and 2 climbing sides. All these parts are detachable. So it's easier for you to move. The height at the jumping platform is 5 meters.
The maximum capacity is 30 people, to provide a better experience to the visitors, it can hold at least 20 people at the same time. The minimum water depth for this item is 3.4 meters.
Here are the specifications and photos.
Dimension

Maximum capacity

Approximate weight

Packing volum

15.3mL*12.2mW*6.25mH

(50.2L*40W*20.5Hft)

30

1300kgs

About 8CBM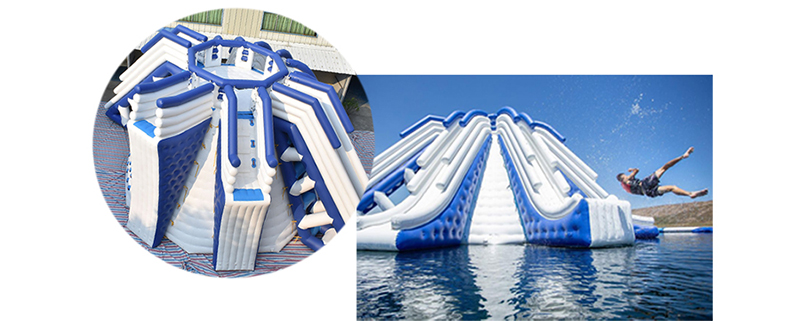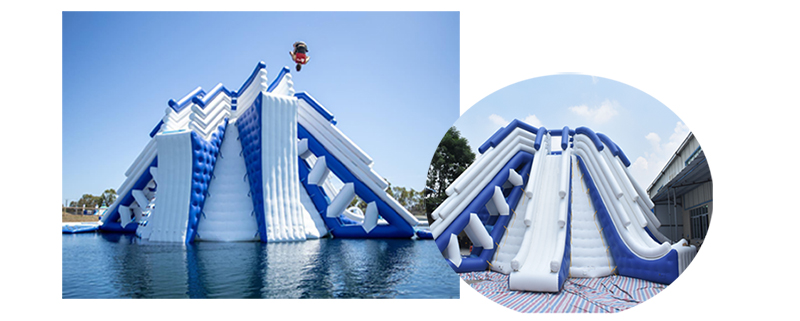 Another Bouncia most popular giant inflatable water park item for sale is the giant jumping tower.
It consists of 2 slides, one climbing side and one jumping platform. The height of the jumping platform is also 5 meters. You can use the jumping platform for diving or blob launching. If you use it for blob launching, the minimum water depth required is 5.9 meters and the safe distance ahead the blob is 12 meters. If you use it for diving, the minimum water depth is 3.4m.
The feature of this giant inflatable jumping tower is the tubular frame makes the air pressure very stable and no need to supplement air frequently. It can save operation time.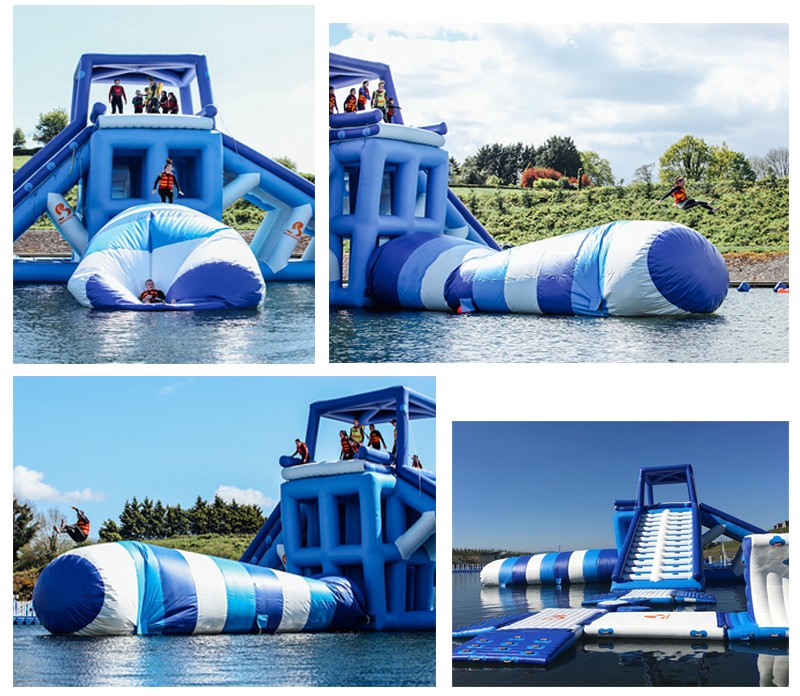 Here are the specifications and photos for this giant water park item.
| | | | |
| --- | --- | --- | --- |
| Dimension | Maximum capacity | Approximate weight | Packing volum |
| 17.6mL*13mW*8.5mH (57.7L*42.7W*27.9Hft) | 20 | 1100kgs | About 7CBM |
Although the giant inflatable water park is attractive, when buying the equipment, some park owners maybe indecisive on buying giant items or not. As they are worried about the safety.
Actually, giant item does not mean danger. If the items are designed, manufactured and operated safely, then the risk is very small. Every Bouncia giant inflatable water park items for sale are all designed and manufactured according the updated EN safety norms EN ISO 25649. Regarding the safety factors in the operation process, the water park owners need to pay attention to the water depth must be enough. Each giant inflatable water park item need at least one staff to guild the visitors to use the equipment.
However, to some degree, excitement do coexist with danger. The key point is if the danger is within controllable range. You need to find a balance between attractiveness and risk.
If this is your first water park and want to buy giant items, we suggest you only buy one first to accumulate operation experience. If it works well, you can add more bigger items in the future. Several Bouncia clients who ordered giant items did this way.
When buying giant inflatable water park items, it is very important to learn if the manufacturer that you are going to work with is experienced enough. If they never or seldom manufactured giant items, the risk will be much bigger than buying from the experienced manufacturers. Because for giant inflatable water park items, there are more safety or quality details need to be considered during the designing and production. Usually, the manufacturers who never made before do not know this.
When your inquired for the giant inflatable water park items, many suppliers may say they have made the giant items before and send you the quote. You may even see the same giant items quoted from different suppliers. It's hard to judge which supplier to choose. A good way to know if the manufacturer has the experience of making giant inflatable water park items is to ask them to provide the relevant evidence. Such as photos taken in their factory and floating on the water, bill of lading of the shipment ect.
If you are looking for giant inflatable water park for sale or you have an idea of customizing the items already, please leave your contact information. Bouncia sales representative will get back to you soon about the prices and other information.